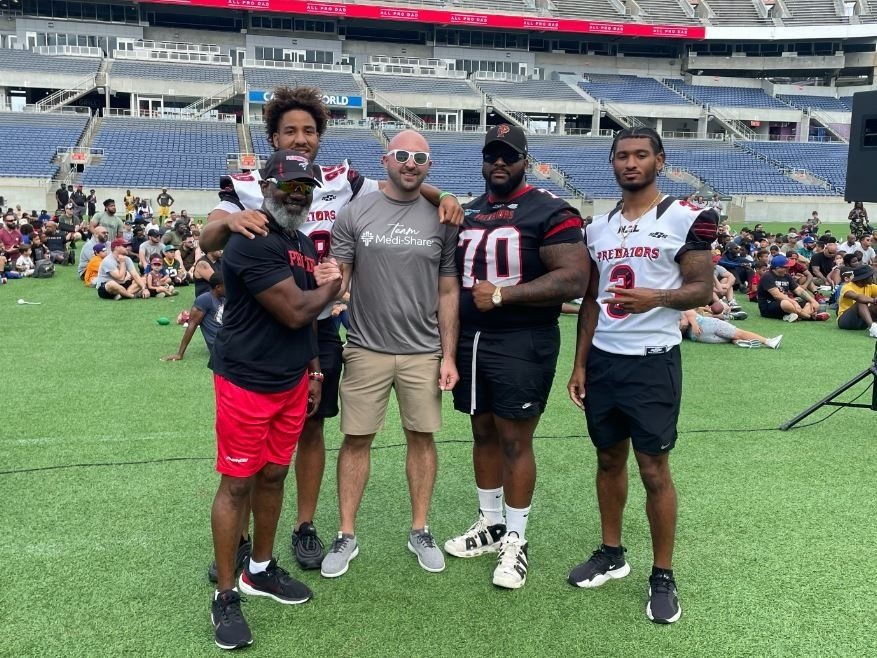 MELBOURNE, Fla. — Christian Care Ministry/Medi-Share, the nation's leading health care sharing ministry, proudly partnered with the All Pro Dad Experience at Camping World Stadium in Orlando, Fla. to demonstrate aligned values and support fathers. With a mission to connect individuals to a Christ-centered community wellness experience based on faith, prayer, and personal responsibility, Christian Care Ministry aims to empower fathers to lead and foster strong family bonds. The All Pro Dad program, led by Mark Merrill, is dedicated to coaching men to become exceptional fathers, husbands, and individuals through an interactive and enjoyable approach that leaves a lasting impact on families. 
The All Pro Dad Experience, sponsored by Medi-Share, brought together nearly 250 families, comprised of elementary and middle school-aged children and their families, for a day of bonding and education through recreation. In addition to the exciting activities, attendees had the privilege of spending time with the Orlando Predator players and coach, as well as UFC fighter Lucas Alexander, who made appearances at the Medi-Share booth. Medi-Share staff enthusiastically participated in the event, donning 'Team Medi-Share' shirts, immersing themselves in the fun-filled atmosphere. 
"We are grateful to Medi-Share for its invaluable partnership, which played a pivotal role in the success of the Orlando All Pro Dad Experience. The event strengthened countless families and empowered fathers to better engage with their children. The support of the entire Medi-Share team made this event possible, touching the lives of hundreds in Orlando. Thank you for being a pillar of support, fostering stronger family connections, and championing the vital role of fathers in building meaningful relationships with their kids."  - Family First President, Mark Merrill. 
Pictured above from left to right: Orlando Predator's Head Coach Herkie Walls, Richard McKenzie, Kacee Smith (Medi-Share), DeQuan Murray, and Clarence Williams. 
About Christian Care Ministry/Medi-Share    
Christian Care Ministry (CCM), a not-for-profit 501(c)(3) organization, based in Melbourne, FL, operates the Medi-Share program, a Christian health care sharing organization that provides an affordable alternative to health insurance for faith-based consumers. Entering its 30th year of sharing, Medi-Share, serves nearly 400,000 members across America and has earned accreditation from the Independent Healthcare Sharing Accreditation Board. For more information about Christian Care Ministry, visit: https://mychristiancare.org/press.    
About All Pro Dad  
All Pro Dad was founded by Mark Merrill and former Tampa Bay Buccaneers and Indianapolis Colts Head Coach Tony Dungy. Serving families and fathers for more than 20 years, All Pro Dad provides resources, training, and events to help fathers as they raise their children for a healthy and hopeful future. All Pro Dad is the fatherhood program of Family First, a national nonprofit organization based in Tampa that reaches thousands of parents each day through its two primary programs: All Pro Dad and iMOM.