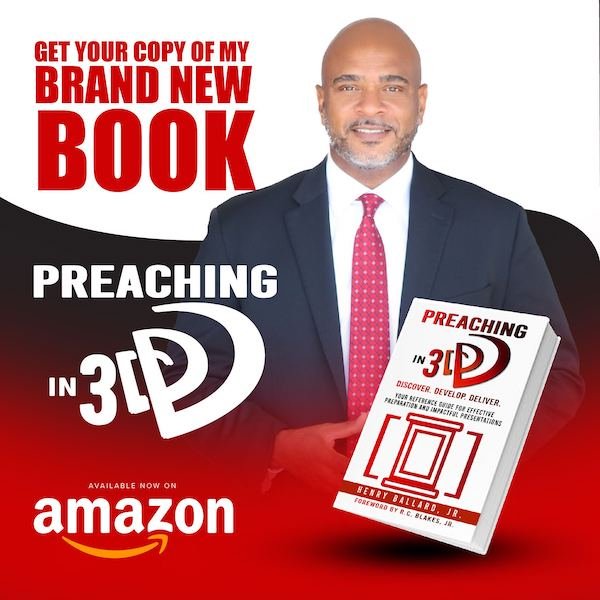 Esteemed preacher and author Pastor Henry Ballard Jr. just announced the release of his latest book, "Preaching In 3D: Discover. Develop. Deliver: Your Reference Guide For Effective Preparation and Impactful Presentations." This #1 Best Seller in Preaching and Sermon Development Categories provides preachers, pastors, and church leaders with valuable insights and techniques for crafting and delivering profound and inspiring messages derived from biblical texts.
"Preaching In 3D" serves as a comprehensive framework, empowering preachers at all experience levels — from those who have been honing skills over years of preaching to those embarking on a fresh journey in the pulpit. This book offers a roadmap to create sermons with clear objectives, establish effective connections with the audience, and artfully communicate the truth of God.
The book underscores the importance of a well-defined sermon preparation process. It serves as a helpful reminder and valuable resource for seasoned ministers while also providing a transformative guide for those new to the pulpit. Specifically tailored for pastors, clergy members, seminary students, and church leaders, this indispensable companion carefully navigates each step of the sermon preparation process.
From grasping the foundational aspects of biblical preaching to skillfully analyzing textual layers and from delivering impactful sermons to assessing and improving overall delivery, "Preaching In 3D" equips preachers with essential tools to establish or enhance a robust sermon preparation process.
The book is now available for purchase on Amazon. It delves into the art of public speaking for pastors, equipping them with powerful preaching techniques and strategies to enhance their delivery and impact. Get a copy of "Preaching In 3D" on Amazon today and embark on a transformative journey of effective sermon delivery.
About Pastor Henry Ballard Jr.
Pastor Henry Ballard Jr. is widely regarded as a highly esteemed preacher and author with a Bachelor of Arts in Biblical & Theological Studies. In addition to his impressive educational background, he is also a Certified Lifeforming Leadership Coach, further demonstrating his commitment to equipping and guiding individuals in their spiritual journeys.
With his expertise, Pastor Henry Ballard Jr. is dedicated to helping individuals uncover the significance of effective communication, cultivating meaningful relationships, and restoring broken connections. He possesses a remarkable aptitude for problem-solving, decision-making, and fostering personal and professional growth, making him a highly sought-after resource in these domains.