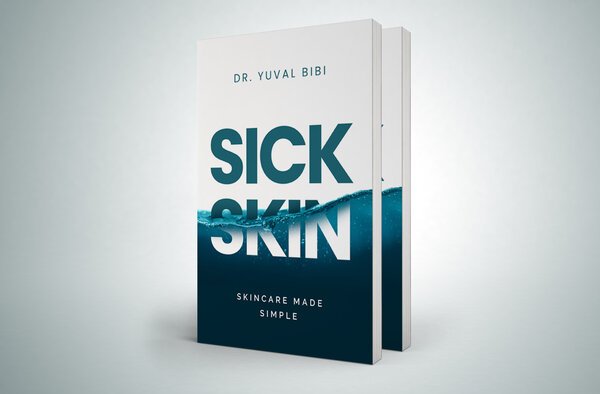 In a world filled with misleading skincare marketing, "Sick Skin" delves into the fallacies and blind spots exploited by the industry to persuade consumers into unnecessary purchases. Dr. Bibi expertly exposes these manipulative strategies, empowering readers to make informed decisions and avoid wasteful spending on products that offer little benefit and may even harm the skin and its microbiome.
The book's second part is where the real magic happens. Dr. Bibi introduces readers to the concept of "Skinese," a personalized language to understand and care for one's unique skin from head to toe. With meticulous attention to detail, he breaks down every body part, providing invaluable insights on the most effective and budget-friendly skincare practices. Furthermore, Dr. Bibi guides readers on recognizing when it's essential to seek professional advice from a dermatologist, saving them both significant expenses and countless hours wasted on ineffective treatments.
Dr. Bibi's expertise and credentials as a distinguished dermatologist shine through in "Sick Skin – Skincare Made Simple." Holding certification from the American Board of Dermatology, his academic journey began at Ben Gurion University in Israel, where he enrolled in the MD/PhD program. He then pursued research at UMass Medical School, focusing on human papillomavirus-related cancer biology and innate immunity. Following his clinical training at Boston University and Tufts University, Dr. Bibi honed his skills in dermatology, specializing in scalp, oral and genital dermatology, and nail dermatology.
Not only a respected clinician, but Dr. Bibi is also the founder of Dr. Bibi Organics, a pioneering vegan skincare company. This entrepreneurial spirit and his passion for minimalist skincare products further enrich the invaluable insights he shares in "Sick Skin."
Prominence Publishing is proud to publish "Sick Skin – Skincare Made Simple" on Amazon, with the official release date set for July 18th, 2023. This groundbreaking book promises to save readers thousands of dollars and years of frustration by providing them with the knowledge and tools to optimize their skincare routine.
About Dr. Yuval Bibi:
Dr. Yuval Bibi is a distinguished dermatologist of Israeli origin currently residing in Palm Beach County, South Florida. With certification from the American Board of Dermatology, Dr. Bibi possesses a broad range of talents and achievements. He combines his clinical expertise with a passion for creative writing and minimalist skincare, exemplified through the establishment of his own vegan skincare company, Dr. Bibi Organics.
About Prominence Publishing:
Prominence Publishing is an esteemed publishing house dedicated to promoting influential voices across various genres. With a commitment to delivering high-quality content, Prominence Publishing strives to empower authors and engage readers through their diverse range of publications.
For more information about "Sick Skin – Skincare Made Simple" or Prominence Publishing, please visit https://drbibiorganics.com/sick-skin or https://prominencepublishing.com.