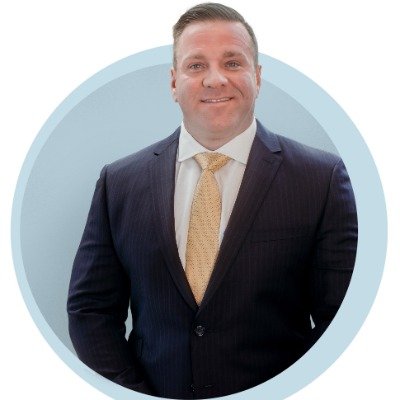 Nic McLeod discusses Navigating Fed rate hikes.
Listen to the interview on the Business Innovators Radio Network: https://businessinnovatorsradio.com/interview-with-nicolas-j-mcleod-wealth-preservation-specialist-navigating-fed-rate-hikes-that-impact-retirement/
The episode delves into the significance of effectively navigating through Fed rate hikes and their impact on retirement. Both Mike Saunders and Nicolas McLeod stress that rate hikes are inevitable, so the focus should be on understanding how to navigate them. Nic highlights the need to comprehend the consequences of rate hikes on portfolios, particularly in relation to bonds. It is mentioned that in 2022, the bond market experienced its worst performance since the 1950s, with bonds plummeting alongside equities. Nicolas explains that historically, rate hikes have been implemented to generate income for infrastructure costs, as seen during Eisenhower's presidency.
Nicolas McLeod provides guidance on properly assessing rate hikes. He emphasizes the importance of paying attention to Federal Reserve officials, such as Janet Yellen and Jerome Powell, as they hold significant influence over financial markets and interest rates. He suggests closely monitoring their statements regarding inflation and spending, as these can indicate potential rate hikes. Nic advises taking these statements seriously and proactively responding to potential rate hikes.
McLeod's approach is described as one of navigation, indicating that he assists individuals in finding strategies and solutions to mitigate the impact of rate hikes on their retirement savings. He emphasizes the need to choose the right tools for the job based on factors such as risk tolerance, expectations, needs, and goals. This is why he provides personalized advice and recommendations tailored to each individual's unique financial situation.
Nic shared: "We at NJM Wealth Preservation Strategies have spent nearly 20 years listening, learning, and crafting a team of experienced, talented, and trusted individuals. This has allowed us to focus on our clients' goals, concerns, red flags, and comprehensive planning. Receiving our clients' lifetime of hard work that has manifested as their retirement dollars is not something we take lightly! In this uncertain economic environment, we aim to bridge the gap between the Accumulation and Distribution phase planning through decades of experience and careful attention to detail. This in turn allows our clients to build their ideal portfolio, control their tax liabilities and provide peace and comfort long term.  We simply take over where most firms lack the knowledge to begin, allowing our clients' portfolios to last as long as they do and secure their legacy as well as the future generations with confidence."
About Nic McLeod
Nicolas (Nic) J. McLeod is a man of determination and grit.  No matter if he's spending time with his wife and kids, creating music, or helping the many families he now calls "friends" find the best ways for them to preserve their wealth and build their retirement savings—he brings a high level of intensity and passion to whatever he's doing in any given moment.
Nic is a second-generation Wealth Preservation specialist. He grew up watching his dad help families in the community with their financial needs. It impacted him at an early age, and it has now been over forty years since his father first started his practice in 1982. In 2005, Nic decided to launch his own firm. He now has 1000's of families spread across the nation who have entrusted him with their financial wellbeing. Nic's client base is diverse in both their professional backgrounds & financial needs. No matter who he is working with, his number one job is to protect and preserve their wealth and retirement savings.
Nic proudly owns a record free of any consumer complaints. This is a direct result of the core values at McLeod Consulting Group. As Nic says, "As fiduciaries, our job is to foster a relationship of trust, both legally and ethically. This is what drives us, so our client's best interests are always first. But we take it to the next level and make sure that all of the work we do is transparent to both our clients and the financial companies we work with. Many of our clients have become like family, and we could not be more thankful for them."
We look forward to inviting you to experience how our team can help you successfully navigate the years leading up to your retirement as well as continue to prosper financially, emotionally, and spiritually throughout your retirement years.
Nic's relationship with God and his family is at his core. "My daily goal is to be a humble servant. This is what gives me my moral compass and keeps it all together." Nic's cherished soulmate is his lovely wife Shayda. Theirs is a true love story, and they bring the same core values to their marriage that they do to all their work.  Nic and Shayda have two young and wonderful children who are very active in their school and in sports—following in their parent's footsteps. While the couple spends weekdays working hard to ensure their clients remain financially secure, weekends are packed with sporting events and other family activities.
"Giving my all can make me vulnerable but my team & I care deeply about our clients," Nic says adamantly.
"It goes far beyond just 'being about the money.'  Money isn't what makes the world go 'round. It's our relationships and our health along with how we are able to spend our time, and I find when you give everything you got, that vulnerability can leave you exposed—to the good, the bad, and the ugly. But I'll take it all if it means that together we create success for you."
Nic can add "gifted athlete" and "seasoned musician," to his list of accomplishments. He was a highly touted D1 football prospect, but his aspirations were cut short due to a severe foot injury. He was determined to continue being part of the sport's world becoming a top bodybuilder, consulting for the University of Arkansas strength coaches, but his passion is helping troubled adolescents and underprivileged youth in his community.  As a musician, he has successfully recorded LPs, enjoying quick success on local and national radio as well as sold-out shows in the largest and most well-known regional venues.  He studied at the prestigious Musicians Institute in Los Angeles, majoring in Lead Guitar Theory and single-string improv. Music continues to be a major component in his life, as he plays and composes music for his family and personal enjoyment.
Nic's commitment to making people better and more able at whatever they choose permeates all his work—from volunteering with his community to helping individuals and families secure and preserve their wealth
Learn More: https://www.njmnwa.com/
Recent news and interviews:
Investment Advisory Services offered by James Jurica CFP® CLU® CHFC® RICP® through Wealth Watch Advisors, an SEC Registered Investment Advisor. Wealth Watch Advisors has no affiliation with the website represented. Wealth Watch Advisors is not responsible for their views and opinions and makes no representations or warranties about the accuracy, reliability, completeness, or timeliness of the content, and does not recommend or endorse any specific information herein. NJM Wealth Preservation Strategies is not affiliated. Investing involves risk including the potential loss of principal. No investment strategy can guarantee a profit or protect against loss in periods of declining values. Opinions expressed as written or recorded are subject to change at any time without notice and are not intended to be used as investment advice or to predict future performance. Past performance does not guarantee future results. Consult your financial professional before making any investment decision.This information is designed to provide general information on the subjects covered. Pursuant to IRS Circular 230, it is not, however, intended to provide specific legal or tax advice and cannot be used to avoid tax penalties or to promote, market, or recommend any tax plan or arrangement. Please note that NJM Wealth Preservation Strategies and its affiliates do not give legal or tax advice. You are encouraged to consult your tax advisor or attorney for any legal or tax advice.Annuity guarantees rely on the financial strength and claims-paying ability of the issuing insurer. Any comments regarding safe and secure investments, and guaranteed income streams refer only to fixed insurance products. They do not refer, in any way, to securities or investment advisory products. Fixed Insurance and Annuity product guarantees are subject to the claims‐paying ability of the issuing company and are not offered by Wealth Watch Advisors.