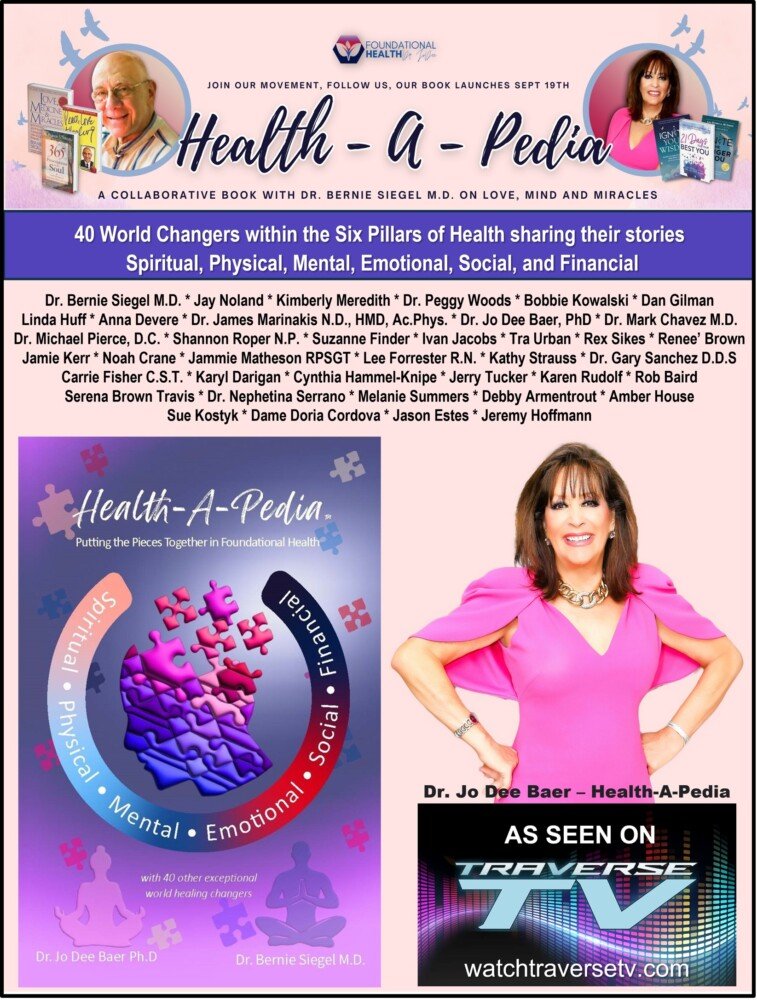 Dr. Jo Dee Baer believes that "these collaborative authors contributing their fame, notoriety, protocol, expertise, experiences, and knowledge within the Six Pillars of Foundational Health will light your way. In preparation for take-off, passengers of health, fasten your seatbelts. Your health and life are ready to take flight! Every compelling story will uplift you to your Epiphany: "Health isn't something you do; it's what you become along life's journey." Enjoy the ride. Vision, and Mission into Fruition."
Book Launch:  Sept 18th, 2023, followed by a Virtual 3-day Summit on Traverse TV  at https://watch.traversetv.com
9/19 from noon to 6 p.m. ET; 9/20 from noon to 4 pm ET through FRIDAY:  9/22 from noon to 6 p.m. ET.  Other Time ZONES are 9 a.m. PT, 5 p.m. GMT/ and 1 a.m. Tokyo Time.
EMPOWER WITH HEALTH & HEALING:
The HEALTH-A-PEDIA's mission is to empower one million lives in all of the Six Pillars of human existence: Spiritually, Physically, Mentally, Emotionally, Socially, and Financially to enable them to step into their greatness. These 40 authors do this by teaching people how to Integrate simple and effective tools into their lives, for example:
SPIRITUAL – Daily meditation
PHYSICAL – Integrating Qui Gong in fitness modalities.
MENTAL – Focusing on an Attitude of Gratitude.
EMOTIONAL – Boosting your energy through your subconscious mind.
SOCIAL – Expressing and accepting love and respectful communication.
FINANCIAL – Manifest dreams in both health and wealth accounts.
Here is a sneak peek into HEALTH-A-PEDIA, the book and the Forty Authors chapters in the Six Pillars of Health:
CHAPTER ONE:  SPIRITUAL PILLAR
Dr. Bernie Siegel M.D. – "Love and a Mystical Life"
Jay Noland – "Vision of Spiritual Health"
Kimberly Meredith – "How to Awaken Your Higher Consciousness"
Dr. Peggy Woods – "From Pain to Purpose"
Bobbie Kowalski – "The Unwanted Visitor"
Dan Gilman – "A Legacy of Healing and Intuition"
Linda Huff – "Transformation from Darkness to Light"
Anna Devere – "Art with Intention"
CHAPTER TWO: PHYSICAL PILLAR
Dr. James Marinakis N.D., HMD, Ac.Phys. – "Man in the Middle"
Dr. Jo Dee Baer, PhD – "The Path of Healing and Wholeness"
Dr. Mark Chavez, M.D. – "True Model of Healthcare"
Dr. Michael Pierce, D.C. – "Elimination Diets Can Set You Free"
Shannon Roper N.P. – "Provider with Courage: Healing Outside the Box"
Suzanne Finder – "Safety in Your Cells?"
Ivan Jacobs – "Overcoming Cystic Fibrosis and Obesity"
Tra Urban – "Leveraging Moments of Impact"
CHAPTER THREE:  MENTAL PILLAR
Rex Sikes – "Your Secret Wayt to Transformation"
Renee' Brown – "Recovery: A Grassroots Approach to Addiction"
Jamie Kerr – "The Principle of Projections"
Noah Crane – "The Three G Affect Mindset"
Jammie Matheson RPSGT – "Turning Fear into Fuel with Hope"
Lee Forrester R.N. – "The Power of She in the Spice Years"
Kathy Strauss – "Creating the Art of Your Strength"
CHAPTER FOUR:  EMOTIONAL PILLAR
Dr. Gary Sanchez, D.D.S – "Transformative Self-Awareness: The First Step to Holistic Health"
Carrie Fisher C.S.T. – "Healing the Wounded Healer"
Karyl Darigan – "Overcoming the Root Cause of Obesity"
Cynthia Hammel-Knipe – "Music is a Healer: Listen with Your Heart"
Jerry Tucker – "The Power of Creating Something from Nothing"
Karen Rudolf – "The Language of Healing: Words as Medicine"
Rob (Santa) Baird – "A Gift from Santa: Health that Lasts a Lifetime"
CHAPTER FIVE:  SOCIAL PILLAR
Serena Brown Travis – "Praise: Life's Perfect Formula"
Dr. Nephetina Serrano – "Destiny and Miracles: A Generational Curse Breaker"
Melanie Summers – "Pay Now or Pay Later"
Debby Armentrout – "Dose of Debby with a Leap of Faith"
Amber House – "From Surviving to Thriving"
CHAPTER SIX:  FINANCIAL PILLAR
Dame Doria Cordova – "The Key to Access! The New Definition of Wealth"
Jason Estes – "The Secret of Translation"
Jeremy Hoffmann – "From Victim to Victor"
Sue Kostyk – "Rich in Health, Mind and Spirit"
CHAPTER SEVEN:  An extra bonus on being a person's best in health: Be A BESTATARIAN.
BESTATARIAN Recipes – Arthur Jue, CEO and Founder of LiveFreely:  Bestatarian BUDDY
Ode to the BESTARIAN in all our Authors by Jerry Tucker, Wordsmith 
Sponsored by: LiveFreely Proactive Aging TM; PPI TM (Personal Performance Institute); Confidence Tones; Vibra360; GravityBall TM; Roper Health Oasis
Dr. Jo Dee Baer describes how the seeds of the Health-a-Pedia movement took root in 1984 while Dr. Jo Dee was being mentored by the pioneer in Natural Health, Dr. Hulda Clark, and experiencing her life-changing practices and protocols. "A goal card was written and dated, stating: "I WILL" write the Eastern Medical Version of the PDR (Physicians' Desk Reference). Now, The Universe has delivered a sign to actualize this goal, in creating the law of attraction in action for a serendipitous collaboration with the Iconic 20th and 21st Century Icon, Dr. Bernie Siegel MD, author of "Love, Medicine, and Miracles.". along with these 40 extraordinary world-changers who will motivate, educate, inspire, and propel other people along their path to Wholeness, Wellness, and Abundance."
Dr. Jo Dee says, "Our collective wish for you is to experience Health-a-Pedia consistently within the dawn of each new day. May your ongoing daily revelations and miracles unfold. Each author desires that through this Ancient Philosophy and Practice of the Six Pillars of Health within human existence, everyone will unearth their wholeness in health. believing that their daily individual transformations become such a part of others and their own health journey, and so resultantly frequent and abundant, whereby each individual's realization to acknowledge them is: 'Of Course.' These recurring epiphanies arise from within everybody's lives so that they stay On Course."
To learn more about Dr. Jo Dee Baer, Ph.D., "America's Top Foundational Health Coach," 0r order any of Dr. Jo Dee's books at https://www.drjodee.com. To reach her, call 1-800-852-0584 or Cell 678-522-3757. To schedule an appointment, go to www.calendly.com/jodee-7. To learn more about Health-a-Pedia and how to be a part of this movement, go to www.health-a-pedia.com