Lawyers of Distinction empowers its members by actively promoting them through various media channels. The organization also lists them in an attorney member directory and offers them endless exclusive networking opportunities. 
Lawyers of Distinction, a private membership organization, helps thousands of lawyers get featured in some of the country's most prominent publications. They showcase their members in well-known papers like Sunday's New York Times, The National Law Journal, The American Lawyer, and The USA Today. 
Lawyers of Distinction also boasts a highly-rated directory for its members, drawing in more than two million visitors. Being part of such a respected platform means that lawyers can attract just as much attention as large law firms, no matter the size of their firm or their marketing budget. This exposure opens up opportunities to work with a wide range of clients and take on life-changing cases. 
Apart from marketing and visibility efforts, this private organization acknowledges exceptional members through awards and honors. The recipients of Lawyers of Distinction awards receive prestigious plaques to commemorate their excellence. These plaques serve as proud additions to lawyers' offices, not only honoring their achievements but also sparking meaningful conversations with clients and colleagues.
Lawyers of Distinction also supports the growth of its members primarily through networking opportunities and case referrals. As in other professions, attorneys need a valuable platform and a lively community to connect and exchange experiences with fellow attorneys. In addition to offering such a platform, the organization has members of all ages and experience who practice law in different areas. This diversity makes it a valuable community for budding attorneys and those practicing law for many years.
As an organization committed to providing more attorneys with a platform and the opportunity to connect with experienced colleagues, Lawyers of Distinction follows a simple but thorough review and vetting process. The primary purpose of this rigorous screening is to maintain the organization's integrity and reputation.
The organization's Selection Committee carefully assesses and evaluates potential members, utilizing US Provisional Patent # 62/743,254 as part of the process. The committee also assigns scores based on 12 criteria to acknowledge the applicant's recognition among peers and their accomplishments. Existing members can nominate their deserving colleagues for recognition. However, similar to all other nominees, these individuals must undergo a rigorous proprietary analysis as part of the evaluation process.
Speaking about the organization, Linda Naimi, a member, noted: "It is an honor to be a member of LoD (Lawyers of Distinction) and a privilege to share experiences and expertise with other dedicated attorneys. I appreciated the nomination by my peers to join LoD and the warm welcome I received as a new member. Everything LoD does is first class - from the awards and plaques to the online website, bios, and press releases." 
Lawyers interested in learning more about the organization, membership types, or fees can contact the office at (877) 335-3021. Lawyers of Distinction is located at 4700 Millenia Blvd #175, Orlando, FL, 32839, US. Visit the website for more information. 
Media Contact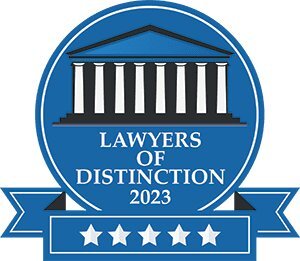 Company Name
Lawyers of Distinction
Contact Name
Ryan Lloyd
Phone
(877) 335-3021
Address
4700 Millenia Blvd #175
City
Orlando
State
FL
Postal Code
32839
Country
United States
Website
https://www.lawyersofdistinction.com/