United States - May 27, 2023 —
The film follows a young man who embarks on a journey of "self-discovery" after experiencing the personal tragedy, of losing himself. Along the way, he meets Nicolás, a shaman priest of the Q'ero nation, who challenges his beliefs and forces him to face his deepest fears.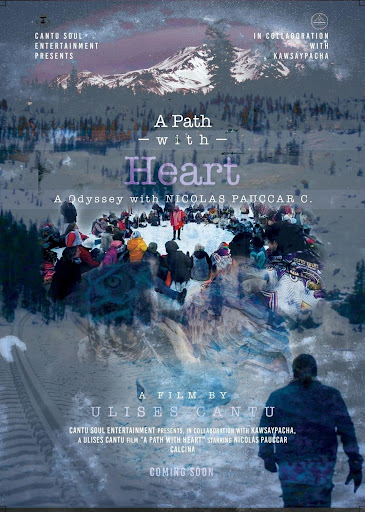 Ulises Cantu's powerful and controversial film, "A Path with Heart," a 2023 film that revolves around spiritual growth and sacrificing ethics for spiritual exploration, is set to hit theaters on June 23rd. 
"A Path with Heart" is a one-of-a-kind film created with the help of the "course of the unknown" and explores the complexities of the human experience. It offers a unique opportunity for people to experience a profound transformation at all levels of their being.
The film features a unique collaboration with Peruvian shaman Nicolás Pauccar C. Andean on Sacred Mount Shasta, known as the base of Mother Earth's energy system and dubbed by many as a holy mountain by Native Americans. 
While some viewers have praised the film for its unique portrayal of a cross-cultural spiritual collaboration, others have criticized it for perpetuating harmful stereotypes and exploiting indigenous knowledge for profit.
The long-awaited film is presented by Cantu Soul Entertainment 
Ulises Cantu is a film director, producer, and actor who is known for making controversial films that explore spirituality and the mystical. His latest film, "A Path with Heart," is no exception. In this film, Cantu, uses a different "mystical technique" to explore the spiritual significance of Mount Shasta, a location believed by many to be a site of great energy and spiritual power. Through his use of this unusual technique, Cantu has created a film that challenges conventional notions of spirituality and raises important questions about the conection between humanity and the natural world. Despite its controversial, "A Path with Heart" has garnered critical acclaim and attracted a devoted following of viewers who are drawn to its unconventional approach to "filmmaking and spirituality".
Nicolás has synthesized a 3,000-year-old ancestral knowledge into simple processes applicable to people's daily lives. The process, described as Qhapaq ñan, exemplifies man as the developer of self-consciousness. 
The premiere of "A Path with Heart" will be held at the Rose Center Theater, 14140 All American Way, Westminster, California. After the film, the priest shaman will have a two-hour workshop where attendees can learn and receive first-hand his ancient practices and teachings. Those who want to reserve their seats right away may visit https://cantushop.com/%22a-path-with-heart%22 to get started. 

Contact Info:
Name: Ulises Cantu (Actor, Director & Producer)
Email: Send Email
Organization: Cantu Soul Entertainment
Address: United States
Website: http://apathwithheartmovie.com/

Release ID: 89098248
If you detect any issues, problems, or errors in this press release content, kindly contact error@releasecontact.com to notify us. We will respond and rectify the situation in the next 8 hours.