DJIA Today, Oct. 15, 2014: The Dow Jones dropped sharply Wednesday, falling as much as 460 points during the session amid weak economic data and renewed concerns about the Ebola virus. The Dow rebounded in the afternoon, but still suffered a 173-point decline. The S&P 500 Volatility Index (VIX) jumped another 9% on the day.
The S&P 500 fell again on the day, its sixth decline in eight sessions.
Here's the scorecard from today's trading session:
Dow: 16,141.74, -173.45 (-1.06%)    
S&P 500: 1,862.49, -15.21 (-0.81%) 
Nasdaq: 4,215.32, -11.85 (-0.28%)   
Now, here's a breakdown of the top stories from the stock market today: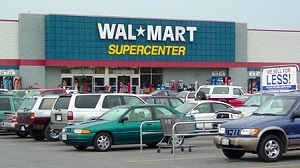 Death of Retail:

America's largest retailer,

Wal-Mart

Stores Inc.

(NYSE: WMT), announced plans to curb the pace of its brick-and-mortar store openings in order to focus on expansion of its e-commerce offerings. In 2015, the company plans to open up to 70 super centers, down from nearly 120 this year. As the nation's third-largest e-commerce retailer, the company is aiming to surpass No. 2,

Staples Inc.

(Nasdaq: SPLS), in the near future. Wal-Mart is a very long way from taking on e-commerce giant

Amazon.com Inc.

(Nasdaq: AMZN) for the top slot. Shares of Wal-Mart were down more than 2.5% on the day.
Ebola Fears Reappear:

A day after manufacturers of protective gear slumped heavily due to easing concerns about Ebola outbreak, stocks reversed this afternoon. Following the news that the latest exposed patient in the United States flew on a plane with more than 100 people before diagnosis, concerns about the deadly disease sent these protective stocks soaring. Shares of hazmat suit maker

Lakeland Industries Inc.

(Nasdaq: LAKE) jumped more than 10%.

Alpha Pro Tech Ltd.

(NYSE: APT) shares jumped more than 13%. And today's largest gainer was

Versar Inc.

(NYSE: VSR), a manufacturer of hazmat suits and decontamination units. Versar shares soared 65% on the day.  
Merger Mania:

Shares of British Bluetooth and GPS chip manufacturer

CSR Plc.

(Nasdaq ADR: CSRE) were up more than 30% this afternoon on news that it will be acquired by

Qualcomm Inc.

(Nasdaq: QCOM). According to reports, the all-cash deal is worth  roughly $2.5 billion. The news comes just two months after CSR rejected a large offer from

Micron Technology Inc.

(Nasdaq: MU).
The Netflix Killer:

During an

Time Warner Inc.

(NYSE: TWX) investor meeting today, HBO Chief Executive Officer Richard Plepler announced his channel's plans to create its own streaming service in 2015 to challenge the top sector players in

Netflix

(Nasdaq: NFLX) and Amazon.com's Prime service. The new service would allow users to access its unique and licensed content without cable or a satellite subscription. Shares of Time Warner, HBO's parent company, were up more than 2% on the day. Netflix shares were down marginally, ahead of its earnings after the bell.
Now our experts share some of the most important investment moves to make based on today's market trading - for Money Morning Members only:
The Profit Opportunity in Hong Kong's Unrest:

Most investors haven't got a clue about what Hong Kong's riots represent, let alone the investment potential that's being unleashed there. As a result, they're going to miss out on some really terrific profit opportunities. But before we get to the best way to play this, understanding what's driving the unrest is key...

The European Crisis Is Going Global - and We're Along for the Ride:

Recently one European leader offered a unique response for dealing with the financial crisis and debt bubble. On the surface, it appears to be a sound approach. But when you scratch beneath, it turns out just the opposite is true. Developed economies would do well to consider the true state of this country's example of a "model" recovery before an even more catastrophic future arrives, and erupts...

The Best Way to Profit from Crude Oil Prices Right Now:

In today's environment, picking winning oil stocks is more about where a company drills, how it manages its assets and operations, and the broader flow of supply and demand. In this case, it's all about selecting the right target - companies that are built to weather the inevitable dips in the price of crude. And there are plenty of them out there...
Tags:
DJIA
,
djia today
,
Dow close
,
Dow Jones
,
Dow Jones close
,
Dow Jones Industrial Average
,
Stock Market Today
,
what happened to the dow today
,
why the dow fell today
The post Yes, the Dow Jones Fell 460 Points Today – Here's What Happened appeared first on Money Morning - Only the News You Can Profit From.