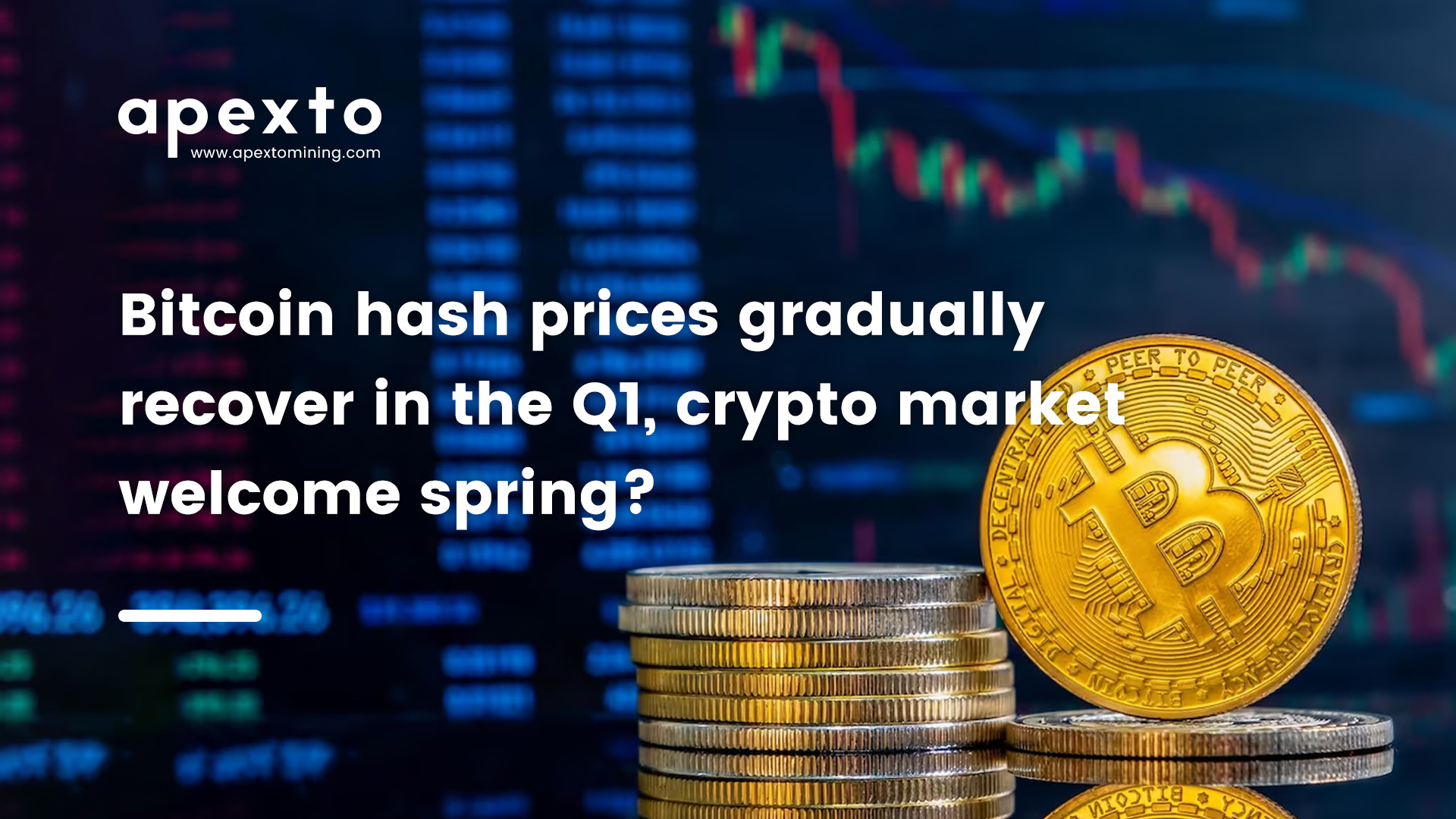 Who was the best performing asset in the Q1 of 2023?
Comparing to the beginning of the year, the international gold price up 11.2%, the S&P 500 index up 6.21%, the first cryptocurrency bitcoin price up 70.36%, a jump above 30,000 dollars.
Bitcoin has outperformed commodities such as the S&P 500 and gold so far this year, making it the best performing asset this year and an important haven for investors seeking refuge from the risk of bank failures. While investors are cheering, the surge in Bitcoin's price is also good news for miners, whose mining revenues have risen more than 66% over the past three months to $1.982 billion, according to data from TheBlock.
The hash prices recover, mining companies can survive
In the past 2022, crypto mining companies faced difficulties in mining and rising electricity costs. Core Scientific, one of the world's largest crypto mining listed company in the US, even filed for bankruptcy protection.
However, as the price of a bitcoin hash has recovered, the HashrateIndex has seen a 40% rise in the past three months from a low of $0.06034 to a high of $0.08487. The Bitcoin ASIC miner with the highest energy efficiency ratio (38J/TH) is currently quoted at $16.2 per T.
The most obvious indicator of a listed crypto miner's turnaround is its share price. Listed miners including Marathon, CleanSpark, Hut8 and Argo have rebounded since the start of the year, rising as much as 130.3%. Moreover, after deleveraging efforts in the first quarter, most mining companies' liquidity problems eased.
Electricity prices fell, making it more profitable for miners
In the past 2022, gas and electricity prices in Europe have repeatedly surged to record highs due to a shortage of gas supplies due to geopolitical conflicts and summer heat waves. The fallout has also spread to North America. Average industrial electricity rates in most North American states are up more than 10 percent from 2021.
Georgia, North America's most popular state for bitcoin miners, saw the biggest price increase, with average industrial electricity prices soaring from $65 to $93 per MWH between 2021 and 2022, a 43% increase. High electricity prices have also become the final straw for some mining companies. In conclusion, in 2022, the severe imbalance between natural gas supply and demand is the main cause of the global energy crisis and the resulting increase in electricity prices.
However, U.S. wholesale electricity prices are widely expected to decline in 2023 as natural gas costs fall and cheap renewable electricity expands. Texas may have the biggest industrial decline, down 45 per cent to $42.95 per megawatt per hour, according to the Energy Information Administration. (Texas has nearly 11.22% of all Bitcoin computing power in the U.S.)
Overall, wholesale U.S. electricity prices will fall 10% to 15% this year, according to estimates by research firm Rystad Energy, and miners are finally seeing prices collapse. Low electricity prices are expected to boost miners' earnings further.
Note: Miners earned a whopping $718 million in March, their highest monthly income since May 2022.
The crypto market is hoping for spring
In the past March, the U.S. banking crisis caused by the bankruptcy of Silicon Valley banks in the macro aspect highlighted the risk-averse characteristics of decentralized crypto assets represented by bitcoin. Crypto assets such as bitcoin are expected to get more attention from traditional investors.
After entering April, Musk changed the Twitter logo to Dogecoin emoji, again detonating the FOMO sentiment of the crypto community. At the same time, there are positive events in the crypto market such as the upgrade of Ethereum Shanghai. This series of events is expected to become the driving force of market price rise.
Our Reputation is Your Guarantee!
Other websites with similar names may try to confuse you to think we are the same. Shenzhen Apexto Electronic Co., Ltd has been in the Blockchain mining business for more than seven years. For the last 12 years, Apexto has been a Gold Supplier. We have all kinds of ASIC miners, including Bitmain Antminer, WhatsMiner, Avalon, Innosilicon, PandaMiner, iBeLink, Goldshell, and others. We also have launched a series of products of oil cooling system and water cooling system.
Contact details
info@apexto.com.cn
Company website
www.asicminerseller.com
WhatsApp Group
Join us: https://chat.whatsapp.com/CvU1anZfh1AGeyYDCr7tDk
Media Contact
Company Name: SHENZHEN APEXTO ELECTRONIC CO., LTD
Email: Send Email
Country: China
Website: https://www.asicminerseller.com/