United States Minor Outlying Islands - September 23, 2023 —
Kilowatts Power Solutions, LLC's goal is to exceed expectations in the buying and selling process of the industry leading manufacturers of pre-owned generators, corresponding electrical gear, HVAC, and data center equipment. What sets KPS apart? Kilowatts Power Solutions stands apart from other industrial equipment support companies because of its in-house capabilities, managing every part of the process from start to finish.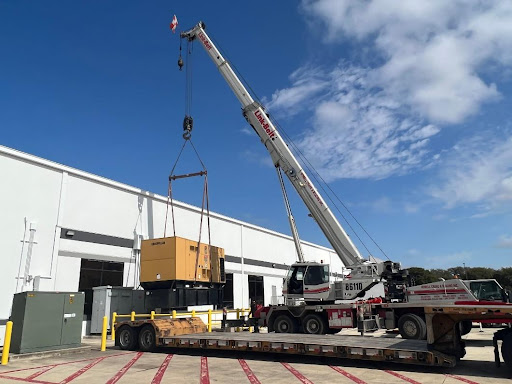 This Isn't Just a Job, It's a Passion.
At the age of 21, owner Jordan Hamon was introduced to the power generation industry. What started as an interest quickly turned into a passion. While traveling back and forth from the northern states to the southern states, he worked hands-on with equipment and on projects. Jordan attended multiple types of events and venues nationwide learning the ins and outs of the trade. Jordan soon realized that this was the career for him to pursue. Jordan created Kilowatts Power Solutions, LLC providing solutions in order to better serve customers' wants and needs.
 From simple generator purchase or sale to complex facility decommissioning project management, Kilowatts Power Solutions tailors every job to its clients' needs and budget(s). The process provides nationwide deinstallation and installation services of power equipment from start to finish. Kilowatts Power Solutions, LLC develops and follows a plan for every project, large or small, individually tailored to each specific project. The KPS process includes providing its own highly experienced staff and transportation specialists to exceed budgets and schedules safely, quickly, and effectively.
 WHERE DOES KPS DO BUSINESS?
Kilowatts Power Solutions is based out of Post Falls, ID – however, it tackles projects nationwide as well as purchase and sell generators and corresponding electrical gear nationwide. 
 What Can Kilowatts Power Help With?
REAL ESTATE
Property management is the operation, control, maintenance, and oversight of real estate and the physical property. This includes residential, commercial, and land real estate.
DATA CENTERS
A data center American (or data centre British) is a building, dedicated space within a building, or a group of buildings used to house computer systems and associated components, such as telecommunications and storage systems.
MEDICAL FACILITIES
The healthcare industry also called the medical industry or health economy is an aggregation and integration of sectors within the economic system that provides goods and services to treat patients with curative, preventive, rehabilitative, and palliative care.
OIL & GAS
The petroleum industry, also known as the oil industry or the oil patch, includes the global processes of exploration, extraction, refining, transporting, and marketing of petroleum products. Mining is the extraction of valuable minerals or other geological materials from the Earth, usually from an ore body, lode, vein, seam, reef or placer deposit. These deposits form a mineralized package that is of economic interest to the miner.
GROW ROOMS
The commercial grow industry is a fast-growing market with plants requiring large amounts of power, from lighting to cooling in an environmentally controlled environment. This requires proper equipment to be placed for crop productivity to be successful.
MARINE AND OFFSHORE
A marine generator is typically powered by diesel or gasoline to produce energy that is converted to electrical energy inside the generator. This electricity can then be used to power various appliances and equipment inside a boat.
Kilowatts Power Solutions is a leading provider of generators for virtually any scale or need, all makes and models. Its skilled staff members provide expert consultation to help determine the size and capacity needed for facilities or jobsites. The expert team of electrical contractors and jobsite management professionals can help safely install high-quality, fully functional, fully refurbished and repurposed generators from leading manufacturers to quickly meet facility center or project needs at a fraction of the cost of a new generator. Contact KPS today for a free consultation at www.kilowattspower.com or 208-889-7616.

Contact Info:
Name: Jordan Hamon
Email: Send Email
Organization: Kilowatts Power Solutions
Website: https://www.kilowattspower.com/

Release ID: 89108323
If you encounter any issues, discrepancies, or concerns regarding the content provided in this press release that require attention or if there is a need for a press release takedown, we kindly request that you notify us without delay at error@releasecontact.com. Our responsive team will be available round-the-clock to address your concerns within 8 hours and take necessary actions to rectify any identified issues or guide you through the removal process. Ensuring accurate and reliable information is fundamental to our mission.