Trading the Spending Supercycle. A $2.3 Trillion Dollar Opportunity.
April 14, 2021 at 14:42 PM EDT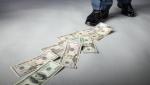 Follow the Money Among the myriad longstanding issues that have plagued the American legislative process, from Medicare to immigration, infrastructure has been among the most universally anticipated. It's an issue that transcends party lines and has the most immediate benefit to the welfare of the...