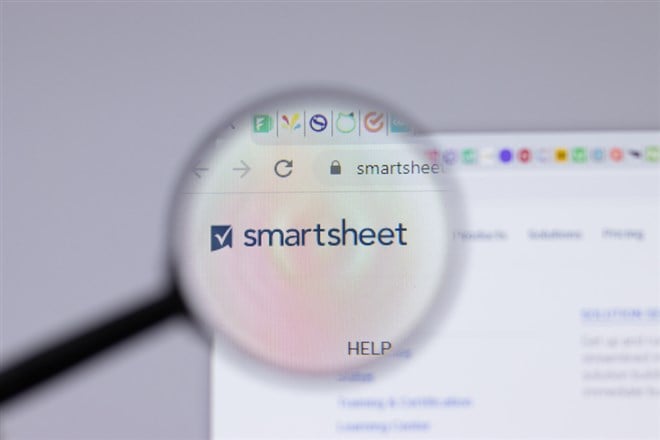 Cloud-based collaborative work management software provider Smartsheet Inc. (NASDAQ: SMAR) is an under-the-radar name growing at 35%. The company provides a cloud-based software platform ecosystem that enables team members to share and collaborate on projects and assignments to accelerate and optimize workflows and be on the same page.
Smartsheet is used by 90% of Fortune 100 companies. Some of its well-known customers include Lego, Proctor & Gamble Co. (NYSE: PG), Pfizer Inc. (NYSE: PFE), Netflix Inc. (NASDAQ: NFLX), and Adobe Inc. (NASDAQ: ADBE).
Workflow Management SaaS
The collaborative work software-as-a-service (SaaS) segment is highly competitive, with many prominent players involved. These platforms enable teams to communicate, share and work on projects allowing members to share documents, files, and comments in real-time. Tasks can be organized and assigned to team members, and progress can be monitored and analyzed to help improve data-driven decision-making.
Smartsheet also employs automation tools enabling members to automate repetitive tasks to optimize their workflow. These workflow ecosystems are gaining popularity and being adopted by more businesses, as evidenced by Smartsheet's 35% top-line growth.
Smartsheet provides customizable dashboards providing an overall view of the project and its various pieces. Smartsheet's platform can integrate with popular third-party business applications like Microsoft Corp. (NASDAQ: MSFT) Office, and Alphabet Inc. (NASDAQ: GOOGL) Google drive. Smartsheet competes with Asana Inc. (NASDAQ: ASAN), Trello, owned by Atlassian Corp. (NASDAQ: TEAM), and Slack, owned by Salesforce Inc. (NYSE: CRM)).
Turning Profits
On March 14, 2023, Smartsheet released its fiscal fourth-quarter 2023 results for December 2022. The company reported a non-GAAP earnings-per-share (EPS) profit of $0.07, excluding non-recurring items, versus consensus analyst estimates for a loss of $0.01, an $0.08 beat. GAAP net loss was ($42.7 million) or ($0.33) per share. Revenues grew 35% year-over-year (YoY) to $212.34 million beating $205.86 million consensus analyst estimates by $0.08. Fiscal 2023 marks the first year of positive cash flow for the company.
ACV Growth
The company saw 45% YoY customer growth with annualized contract values (ACV) of at least $100,000. This figure grew to 1,484 customers. Customers with $50,000 or more ACV grew 36% YoY to 3,206. Customers with ACV of $5,000 or more grew 19% to 18.093. Smartsheet ended the year with 45 customers, with ACV exceeding $1 million. Net dollar-based retention was 125%. This means the company was able to upsell existing customers and maintain loyalty.
Smart Sheet CEO Mark Mader commented, "Our largest customers continue to expand faster than our overall net dollar retention rate, a sign of the rapid return on investment they realize from Smartsheet's enterprise platform."
Mixed Guidance
The company provided mixed guidance with profitable EPS on lighter revenues. Smartsheet expects fiscal Q1 2024 EPS between $0.08 to $0.09 versus ($0.05) consensus analyst estimates. Revenues are expected between $213 million to $215 million. Fiscal full-year 2024 EPS is expected between $0.31 to $0.38 versus ($0.06) consensus analyst estimates. Full-year revenues are expected between $943 million to $948 million versus $956.89 million. 
Weekly Rising Price Channel
The weekly candlestick chart on SMAR illustrates a rising price channel that commenced after making a low of $25.09 in November 2022. Shares staged a rally powered by the weekly stochastic rising to the 80-band sending shares to a peak of $48.61 in January 2023. The stock continues to hold in its weekly rising price channel range comprised of higher lows and higher highs. The weekly 20-period exponential moving average (EMA) support continues to rise at $41.25, followed by the 15-period MA at $37.57.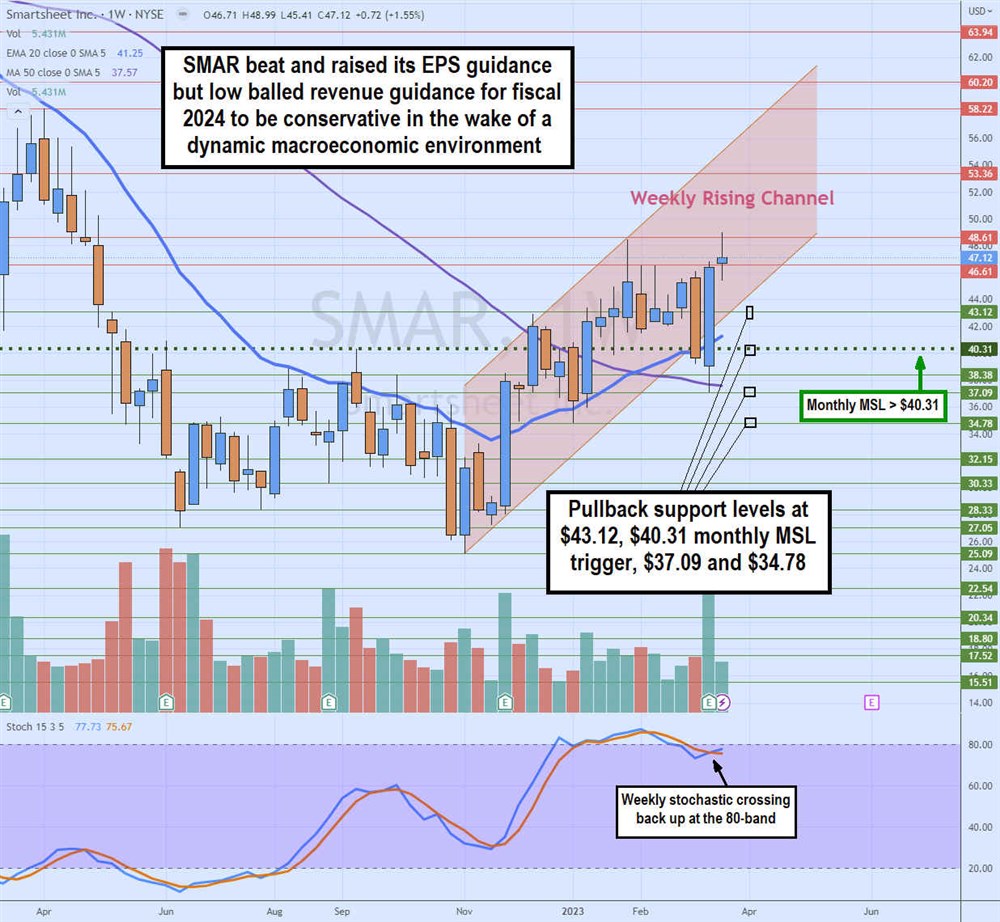 The weekly stochastic briefly dipped under the 80-band as shares briefly fell under the lower trendline of the rising price channel. The weekly stochastic is already crossing back up near the 80-band thanks to the surge in buying spurred by its fiscal Q1 2024 earnings beat. Pullback supports are $43.12, $40.31 monthly MSL trigger, $37.09, and $34.78.