United States - September 23, 2023 —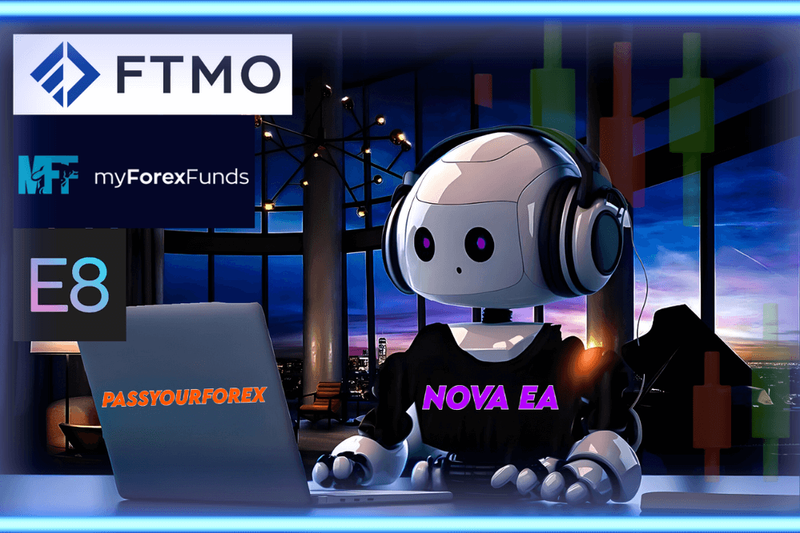 In the dynamic world of financial trading, prop firms (proprietary trading firms) stand as formidable gatekeepers, demanding expertise, discipline, and resilience from aspiring traders. For many, the journey to success in prop trading has been marked by trials and tribulations. However, PassYourForex, a trailblazing forex AI company, is changing the game, equipping traders with the tools they need to conquer prop firm challenges independently.
The Prop Firm Challenge
Proprietary trading firms, known as prop firms, are renowned for their rigorous selection processes and demanding trading environments. These firms provide traders with capital to trade on behalf of the firm, but in return, they expect exceptional performance and risk management. Traders face challenges such as profit targets, risk controls, and strict compliance rules.
Historically, navigating these challenges has been a daunting task, and many traders have struggled to meet the exacting standards set by prop firms. This is where PassYourForex comes into play, revolutionizing the way traders prepare and succeed in prop trading.
Empowering Traders with AI
At the heart of PassYourForex's mission is the development of powerful AI technology that empowers traders to tackle prop firm challenges with confidence. The company's AI-driven platform is designed to provide traders with a competitive edge by offering insights, strategies, and tools that enhance their performance and hands free trading execution.
The AI technology at PassYourForex is not just a set of static algorithms but a dynamic learning system that adapts to market conditions and user behavior by monthly updates from the optimization team. They continuously analyze market data and fine-tunes AI trading strategies, effectively learning and evolving alongside the markets.
Independence through automation
One of the primary goals of PassYourForex's AI is to provide traders with the software & guidance they need to thrive independently in the prop trading world. The platform offers comprehensive educational resources, including tutorials, webinars, and human 1 on 1 help via zoom.
Traders can gain a deeper understanding of AI strategies, AI risk management, and prop firm knowledge. These softwares equips them to make informed decisions and navigate the challenges imposed by prop firms with a high degree of independence.
A Personalized Approach
PassYourForex understands that each trader's journey is unique. Their AI technology takes a personalized approach, tailoring strategies and recommendations to individual trading styles and goals. Whether a trader is aiming for rapid growth or conservative returns, PassYourForex's AI adapts to suit their preferences.
This personalization extends to risk management, where the AI helps traders set appropriate equity protection and position sizes based on their risk tolerance and trading objectives. By doing so, it ensures that traders can manage risk effectively and protect their capital.
User Success Stories
PassYourForex's impact on traders is already evident in numerous success stories. Traders who were previously struggling to meet prop firm targets have found new levels of confidence and competence with the assistance of PassYourForex's AI.
Tyler Evans, a trader who recently joined a prop firm after using PassYourForex, shared his experience: "Before PassYourForex, I had never traded forex. But their AI not only gave me valuable insights, but it also helped me develop the skills I needed to succeed independently. I'm now hitting my profit targets consistently, and it's all thanks to PassYourForex."
The Road Ahead
As PassYourForex continues to empower traders, the company has its sights set on further innovation. They are actively exploring ways to expand their AI-driven platform to better suit all types of traders. Additionally, partnerships with prop firms and financial institutions are on the horizon, which could broaden their reach and impact.
In conclusion, PassYourForex's AI is transforming the landscape of prop trading by empowering traders to conquer challenges independently. With a personalized approach, comprehensive education, and dynamic AI technology, PassYourForex is making the journey to success in prop trading more accessible and achievable for traders of all backgrounds.
As the company continues to evolve and expand its offerings, it stands as a shining example of how technology can democratize access to financial markets and provide individuals with the tools they need to thrive in this competitive arena.
Contact Info:
Name: TradeWJeo
Email: Send Email
Organization: PassYourForex
Website: https://www.passyourforex.com/

Release ID: 89108234
If you encounter any issues, discrepancies, or concerns regarding the content provided in this press release that require attention or if there is a need for a press release takedown, we kindly request that you notify us without delay at error@releasecontact.com. Our responsive team will be available round-the-clock to address your concerns within 8 hours and take necessary actions to rectify any identified issues or guide you through the removal process. Ensuring accurate and reliable information is fundamental to our mission.