EZ Rolloff Containers, a company based in Hendersonville, NC, is offering dumpster rentals in Hendersonville and neighboring areas. The dumpsters are for eliminating the junk and waste materials for various kinds of projects, from attic and basement clean outs to landscaping projects. The company wants to emphasize that they can assure customers that they provide quality dumpsters, reasonable rates, and excellent customer service. EZ Rolloff currently has an overall rating of 5.0 out of 5 stars on Google. Those who want to check out their customer views can go to https://goo.gl/maps/QK2TfV1FwHWKeYDH9.
In one recent review, Sally B. gave them five stars and said, "I highly recommend this business. My dad passed away with Covid last year and left lots of stuff behind. I called around to get prices for a dumpster and was told it would be a month before I could get one and prices were like 350.00 for three days! I found EZ Rolloff and they got the dumpster to my dad's home in the exact day I would be arriving in town. The cost was cheaper at 310.00 and got to keep a full week! They are very prompt and I truly can't thank them enough for their services during this difficult time! Thankyou Judy."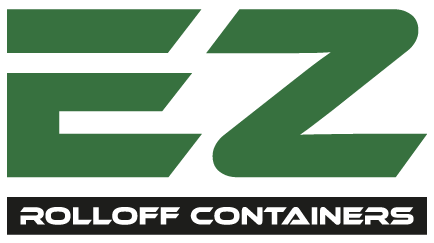 There are three available sizes of the dumpsters available for rent from EZ Rolloff Containers. These are the 12 yard dumpsters, 20 yard dumpsters, and 30 yard dumpsters. The 12 yard dumpster is 12 feet long, 8 feet wide, and 4 feet tall. This dumpster is suitable for both small or large projects, including but not limited to: landscape project cleanups, attic and garage clean outs, home remodeling cleanups, and clean outs before moving. It has a capacity equivalent to 4 pick-up loads and it is typically used for household cleanup projects, such as small furniture, toys, removal of old carpets, and other household items.
The 15 yard dumpster measures 20 feet in length, 8 feet in width, and 4 feet in height. Its capacity is equivalent to 6 pick-up loads. It is suitable for getting rid of wastes from yard cleanups, house cleanups, and small remodeling projects.
The 30 yard dumpster measures 22 feet in length, 8 feet in width, and 6 feet in height. Its capacity is equivalent to 8 pick-up loads. It is big enough for larger remodeling projects, such as bathroom remodels, or complete garage and attic clean outs. It is suitable for heavy, bulky, and large items. Those who want to get more information about the company can visit their Facebook page at https://www.facebook.com/EZrolloffs/.
A spokesperson for EZ Rolloff Containers says, "When it comes to choosing a company to partner for your dumpster rentals, you need a company that you can rely on - and that's exactly what you'll get when you choose us. We work hard to make sure that your next project goes smoothly and that you're able to get rid of the waste easily. Whether you're about to start that long overdue bathroom renovation or you're finally ready to tackle that overcrowded garage, we'll be there with the dumpster rental you need to complete the project. Don't make the mistake of starting your project without first renting your dumpster! There's nothing more inefficient than moving junk twice. Luckily, renting a dumpster is simple and convenient thanks to our online ordering system. You can reserve your roll off dumpster rental anytime you're ready. Have questions? Our professional team is here to help you every step of the way."
Founded in 2000 by Jim Owen, EZ Rolloff Containers is a family-run business. He handed over the control of the business to his oldest son James in 2007. Unfortunately, James passed away in June 2017 due to a car accident. Jeff Owen is currently running EZ Rolloff Containers and growing the business and is committed to upholding the legacy of his older brother James. They offer 12 yard, 20 yard, and 30 yard dumpsters for rent. However, they don't offer residential garbage pickup service or front load garbage containers.
Those who are interested in the dumpster rental services can visit the EZ Rolloff Containers website at https://www.ezrolloffs.com/ or contact them through the phone or by email.
###
For more information about EZ Rolloff Containers, contact the company here:

EZ Rolloff Containers
Jeff Owen
(828) 215-3988
ezrolloffscontainers@gmail.com
385 N Egerton Rd
Hendersonville, NC 28792