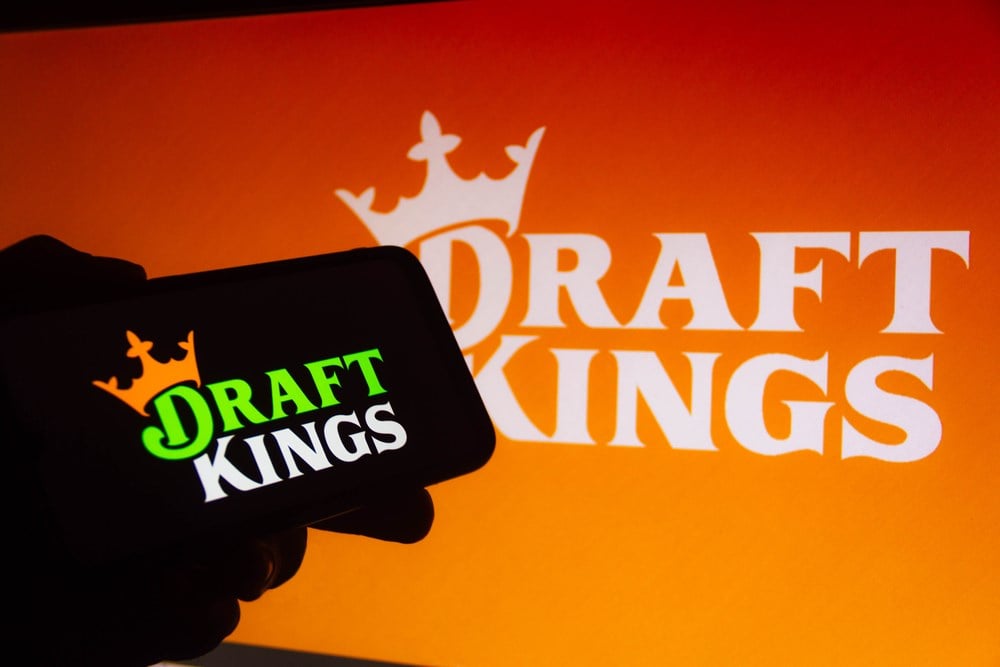 Digital sportsbook and gaming platform DraftKings Inc. (NASDAQ: DKNG) stock is up 125% year-to-date (YTD) as new states continue to approve online sports betting and iGaming. The Company is still losing money, but revenues are ramping up. The Company had an 88% top-line growth spurt in Q2 2023.
The Company also raised guidance, causing shares to gap up. However, the jubilation was short-lived as shares sold off on the news of rival Penn Entertainment Inc. (NASDAQ: PENN) partnering with The Walt Disney Co. (NYSE: DIS) owned ESPN to form ESPN Bet in a 10-year contract starting ahead of the 2023 NFL season. Penn will rebrand Barstool Sportsbook to ESPN Bet and get a 10-year exclusive trademark.
The move evens the playing field against DraftKings and Flutter Entertainment plc (OTCMKTS: PDYPY) owned FanDuel. This provides Penn access to over 105 million monthly unique visitors. ESPN has the rights to NFL Monday Night Football, Saturday night regular season (weeks 14 to 18) games, Pro Bowl and the NFL Playoffs.
More U.S. State Approvals on the Horizon
As of August 2023, 20 U.S. states have approved DraftKings for online sportsbooks, daily fantasy sports (DFS), or gaming casinos. The wind is on their back as momentum for more state regulators approving sports betting continues to accelerate. They will be launching in Kentucky with revenues flowing by Q4 2023.
The Company has three more states in its sights. North Carolina approved sports betting on June 14, 2023, and DraftKings is expected to launch in January 2024. Texas has yet to approve sports betting, but the earliest could be spring 2024. Minnesota has ended its 2023 legislative session with no legal sports betting approved. It may approve in 2024.
Firing on All Pistons Ahead
On Aug. 3, 2023, DraftKings reported its Q2 2023 earnings for the quarter ended in June 2023. The Company reported a non-GAAP earnings-per-share (EPS) loss of 17 cents, beating consensus estimates for a loss of 24 cents by 7 cents. Revenues rose 87.7% year-over-year (YoY) to $875 million, crushing consensus analyst expectations for $764.55 million.
Monthly unique payers (MUP) rose 44% to 2.1 million paying customers. This includes the customers for its sportsbook and iGaming services. Average revenues per MUP rose 33% to $137 in the quarter. The Company has $1.6 billion in cash and is expected to have over $1 billion by the end of 2023.
Raising the Bar
DraftKings raised its full-year 2023 revenue guidance to $3.46 billion to $3.54 billion versus $3.135 to $4.235 earlier guidance versus the $3.28 consensus analyst estimates. Adjusted EBITDA is expected between a loss of $190 million to $220 million versus earlier estimates of a loss of $290 million to $340 million. It expects a "meaningful" adjusted EBITDA in the fiscal year 2024. It expects nearly $1.2 billion in revenues in Q4 2023.
CEO Insights
DraftKings CEO Jason Robbins noted that the Company had been focused on powering its same game parlays while differentiating its live betting content with its online sports book (OSB). DraftKings has live same-game parlays for NFL, MLB, NBA gold, tennis, MLB and college games constructed in-house.
With iGaming, the Company has added live dealer and jackpot offerings. He underscored, "Our persistent focus on product differentiation is already apparent in share trends. In the states where we currently live, we achieved an OSB handle share of 35% and OSB GGR share of 32% in the quarter, which were the highest since the COVID impacted the second quarter of 2020."
Its iGaming gross gaming revenues (GGR) hit a record for iGraming GGR shares at 27%.
Analyst Actions
DraftKings' strong Q2 2023 performance triggered several analyst upgrades. Wells Fargo upgraded DKNG shares to Overweight from Equal Weight and raised its price target from $28 to $37 per share. Truist upgraded shares to a Buy from Hold, raising its target price from $31 to $44. JP Morgan raised its rating from Underweight to Neutral with a $26 price target.
DraftKings analyst ratings and price targets are at MarketBeat.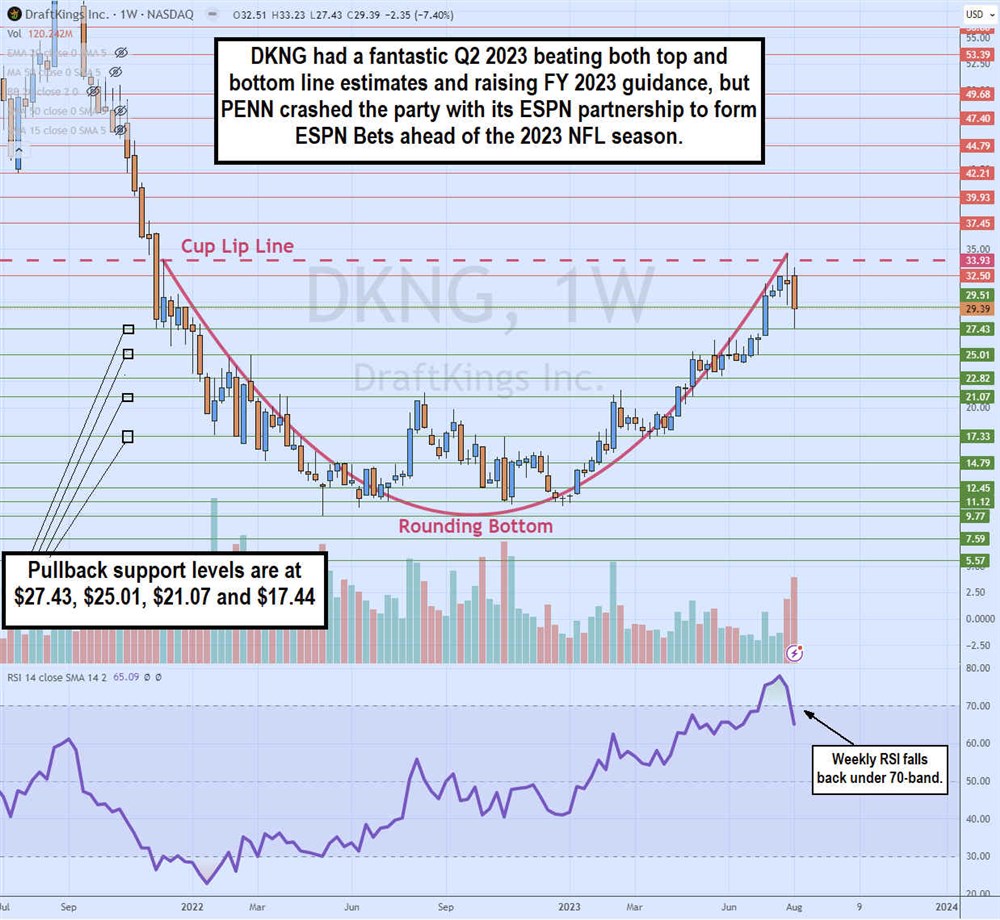 Weekly Rounding Bottom Cup Formation
The weekly candlestick chart on DKNG formed a rounding bottom that completed the cup pattern and could be setting up a handle. The cup lip line started at $33.93 in December 2021. DKNG sold off to a low of $9.77 in May 2022. It took multiple months to form a rounding bottom that eventually ground higher to retest the $33.93 cup line into its strong earnings release peaking at $34.49.
The cup formation was completed, and the sell-off formed post-earnings when PENN reported their earnings, and the ESPN partnership took shares to a low of $27.43. The weekly relative strength index (RSI) oscillator peaked at the overbought 80-band and has fallen back under the 70-band. Pullback support levels are $27.43, $25.01, $21.07 and $17.44.