Heebin's, a brand specializing in beauty supplements, marks its official launch with two groundbreaking products, Royal Collagen and Royal Hair, Brows & Lashes.
United States - September 23, 2023 —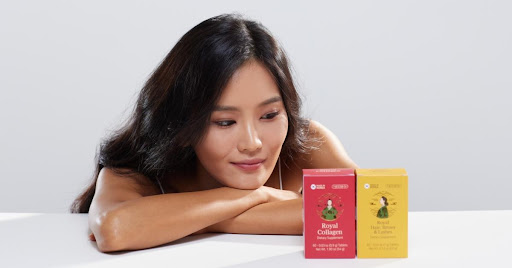 Heebin's, a groundbreaking brand specializing in transformative beauty supplements, announces its official launch, introducing two exceptional products that promise to redefine their beauty routine from within. With a dedication to excellence, Heebin's seamlessly integrates the best wellness practices and ingredients from both East and West.
The brand draws inspiration from the captivating journey of Heebin Jang, who transcended humble beginnings to become a queen during the Joseon Dynasty, alluring the king with her extraordinary beauty. This historical narrative serves as a reflection of Heebin's mission: to empower individuals to embrace their innate beauty and embark on a transformative journey.
Audrey Jeon, co-founder and director of Heebin's, brings a unique background to the brand's creation. Audrey's personal experience as a beauty enthusiast and a working professional led her to create Heebin's, offering cost-effective and time-efficient beauty solutions that cater to a busy lifestyle.
"We are thrilled to introduce all-in-one beauty supplements that not only deliver exceptional results but also simplify and optimize beauty regimens," Audrey Jeon explains. "My own journey as a lawyer navigating a demanding career and my passion for beauty inspired me to create Heebin's, providing fundamental solutions to beauty concerns that fit the lifestyles of modern individuals."
Heebin's Royal Collagen is meticulously crafted with a proprietary blend of highly bioavailable low molecular weight fish collagen and collagen boosters such as Vitamins A, C and E, biotin, iron, zinc and copper. These essential nutrients stimulate collagen production and deliver comprehensive benefits for radiant skin, healthy hair and strong nails. Unlike traditional collagen supplements, Royal Collagen's patented technology ensures there is no fishy smell or taste, making it an enjoyable addition to their daily regimen.
Royal Hair, Brows & Lashes, an all-in-one hair supplement, combines vitamins, minerals and low molecular weight fish collagen clinically proven to support overall hair and scalp health. Further enriched with authentic Korean superfoods like goji berries and black beans, this product unlocks the Korean secret to haircare.
Heebin's products are manufactured in top-tier Korean facilities, renowned for their industry-leading R&D center and strict adherence to global standards, including ISO and GMP. Each tablet undergoes laboratory verification to guarantee purity, potency and safety, in alignment with Heebin's commitment to upholding the highest quality standards. This commitment extends to rigorous in-house legal assessments and compliance evaluations conducted by global consulting firms.
Both of Heebin's innovative products, Royal Collagen and Royal Hair, Brows & Lashes, will soon be available for purchase on Amazon US. Moreover, both of these products have been selected by the Korean Ministry of Agriculture, Food and Rural Affairs for placement on the government-run K Food online store, extending their reach to customers in China, Japan, Singapore, Malaysia and the Philippines.
Disclaimer: These statements have not been evaluated by the Food and Drug Administration. These products are not intended to diagnose, treat, cure or prevent any medical condition.

Contact Info:
Name: Donghyeon Kim
Email: Send Email
Organization: Heebin's
Website: https://www.instagram.com/heebins_official/

Release ID: 89108233
Should any problems, inaccuracies, or doubts arise from the content contained within this press release, we kindly request that you inform us immediately by contacting error@releasecontact.com. Our dedicated team will promptly address your concerns within 8 hours, taking necessary steps to rectify identified issues or assist with the removal process. Providing accurate and dependable information is at the core of our commitment to our readers.