In a riveting new episode of the Curative Mushrooms Podcast, Oliver, the host, was joined by an avid follower, Leslie, to discuss the transformative power of 'Happy Mushrooms' and the potential therapeutic benefits for depression. Learn More at https://www.curativemushrooms.com?sl=ampf0922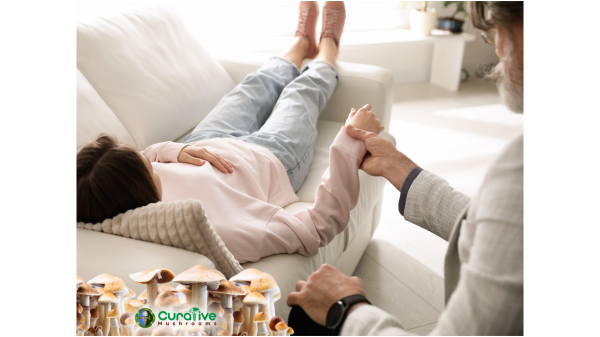 Frisco, United States - September 23, 2023 —
In a riveting new episode of the Curative Mushrooms Podcast, Oliver, the host, was joined by an avid follower, Leslie, to discuss the transformative power of 'Happy Mushrooms' and the potential therapeutic benefits for depression.
Learn more about the health benefits of 'Happy Mushrooms and their effects on depression, anxiety, PTSD and addiction at the Curative Mushrooms website.
Leslie, hailing from Idaho, recounted her positive experiences with Oliver's product. "Took me a while to figure out how to do it the right way. But when I finally saw my first pen, I jumped for joy," she shared.
One of the episode's highlights was the insightful debate on harvesting techniques and how mushrooms can double in size if provided with the right conditions. Oliver advised users to be patient, allowing mushrooms to fully grow and, if they stop growing, to give them a good soak before returning them to a fruiting environment.
A topic of significant interest was the potency of mushrooms across different flushes. Oliver commented that smaller mushrooms tend to pack more potency, explaining, "It's like it crammed all of its compounds into that small little body."
Leslie took the conversation further by sharing a personal experience with a double hero dose. "I swear I unlocked the other 70% of my brain. It was beautiful, amazing, and scary all at the same time," she revealed.
The episode took an intriguing turn when Leslie, a professional hypnotherapist, revealed she's been combining hypnotherapy and 'Happy Mushrooms' with impressive results on conditions like anxiety, PTSD, and trauma. She confidently stated, "I truly believe that it'll put the pharmaceutical companies out of business one day."
Oliver emphasized the importance of education to close the prevailing knowledge gap surrounding mushrooms. "People need to be educated. There's a big education gap right now," he said, appreciating Leslie's decision to share her story on the platform.
As an advocate for the power of mushrooms, Oliver touched on the growing community of high-profile individuals, including UFC champions, who have come forward to discuss the role mushrooms have played in their careers and lives.
Oliver wrapped up the episode with heartfelt gratitude for Leslie and an invitation for more listeners to share their stories on the potential benefits of 'Happy Mushrooms'.
For those eager to dive deep into the world of mushrooms, the Curative Mushrooms Podcast offers a wealth of knowledge, personal experiences, and scientific insights.
For those interested in growing 'Happy Mushrooms' that help with depression like Leslie they can check out the Curative Mushrooms store.
Note: Always consult with a health professional before using any product or practicing any therapy with mushrooms.
Contact Info:
Name: Oliver Carlin
Email: Send Email
Organization: Curative Mushrooms
Address: 122 Rose Lane C1, Frisco, TX 75036, United States
Website: https://curativemushrooms.com?sl=ampf

Source: PressCable
Release ID: 89108349
In case of detection of errors, concerns, or irregularities in the content provided in this press release, or if there is a need for a press release takedown, we strongly encourage you to reach out promptly by contacting error@releasecontact.com. Our efficient team will be at your disposal for immediate assistance within 8 hours – resolving identified issues diligently or guiding you through the removal process. We take great pride in delivering reliable and precise information to our valued readers.