Tenth Anniversary Ocean Exchange Event Celebrates Five Winners

FT. LAUDERDALE, Fla. - Nov. 1, 2021 - PRLog -- Celebrating its tenth anniversary, Ocean Exchange announced the five winners of its cash purse of $245,000. Millicent Pitts, Executive Director, commented on the 2021 awards process, "We were delighted to host twenty-two innovative start up entrepreneurs in Fort Lauderdale, presenting to our VIP delegates from business, government, NGOs, and academia. The competition included three awards for solutions from university students and two awards for traditional entrepreneurs, all focused on healthy oceans, sustainable coastal systems, and zero emissions shipping. We send our thanks to Nova Southeastern University for providing sponsorship and the perfect venue."

The monetary winners were:

Ocean Rescue Alliance (FL, USA): Winner of the Guy Harvey Ocean Foundation Award of $10,000 with its coral restoration solution for healthy ocean ecosystems and wave suppression.

E-Wave Technologies (NJ, USA): Winner of the Broward College Innovation Award of $10,000 for wave energy conversion to support aquaculture and other markets.

WeavAir (Canada): Winner of the Ocean Exchange Collegiate Award of $25,000 for a system for vessel emission monitoring and predictive algorithms for regulatory compliance and operating cost savings.

Element Resources (CA/TX, USA): Winner of the Wallenius Wilhelmsen Orcelle(r) Award of $100,000 for containerized, hydrogen-based, carbon-free fuel cells for at-berth (cold ironing) power needs in ports.

Virgil Group (DC, USA): Winner of the Neptune Award of $100,000 for SAAS subscription to improve seafood traceability through intelligent assessment output from the Virgil model to improve seafood supply chain management and regulatory compliance. The Neptune Award is funded by the Littlejohn Family Foundation and by the Marine Research Hub of South Florida.

The Ocean Exchange Awards event was preceded by a Maritime Decarbonization Summit with leaders from maritime and aviation. Represented were DNV, MAN Energy Systems, Royal Caribbean Group, Wallenius Wilhelmsen, Crowley, AAPA, Blue Sky Maritime Coalition, SAFE, Braid Theory, CAAFI, UC-SD Scripps, Wartsila, Just Innovation, The Wharton School at the University of Pennsylvania, University of Texas-Austin, and Port Everglades. Nova Southeastern University hosted this session at its Halmos College of Natural Sciences and Oceanography/Guy Harvey Oceanographic Center.

**********************************************************************************************************
Ocean Exchange is a 501c3 with the sole mission to help advance the adoption of innovative solutions for healthy oceans and sustainable coastal systems and maritime activities. Find more at OceanExchange.org.


Photos: (Click photo to enlarge)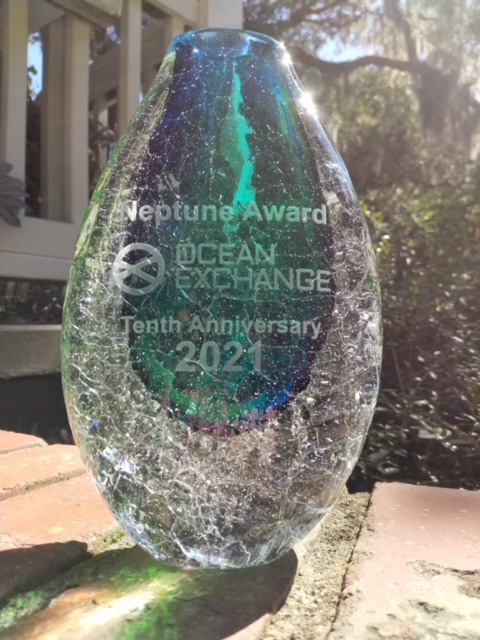 Read Full Story -
Ocean Exchange Winners Announced for $245,000 Cash Purse of Awards
|
More news from this source
Press release distribution by PRLog